How life in Wales compares with other home nations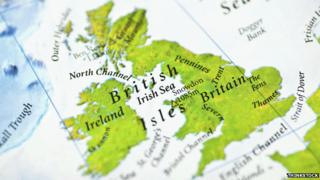 Men born in Wales can expect to live until they are 78.1, according to official figures released to compare life in the UK's four nations.
The data from the Office for National Statistics (ONS) puts population growth, disposable incomes and even recycling rates in the spotlight.
It shows Wales has the second highest life expectancy for men compared to 79 years for those born in England.
And it reveals the most popular baby names in Wales are Jacob and Amelia.
Here's an overview of some of the other data to see how Wales compares in the Compendium of UK Statistics.
---
Population
Population density: England 411, Wales 148, N. Ireland 134, Scotland 68 (per sq km, 2012)
Projected annual population growth: Wales +0.3%, Scotland +3%, N. Ireland +0.4%, England +0.6% (mid-2012 to mid-2037)
Projected population of state pension age annual growth rate: Wales +0.8%, Scotland +1%, England +1.1%, N. Ireland +1.4% (mid-2012 to mid-2037)
Male life expectancy at birth: England 79, Wales 78.1, N. Ireland 77.7, Scotland 76.5 (2010-2012)
Female life expectancy at birth: England 82.8, Wales 82.1, N. Ireland 82.1, Scotland 80.7 (2010-2012)
Net international migration: England 158,000, Scotland 14,000, Wales 8,000, N. Ireland -2,000 (England, Scotland and Wales had more immigrants than emigrants in 2012)
Percentage of population born in one of the other three UK nations: Wales 21.8%, Scotland 9.7%, N. Ireland 4.6%, England 2.7% (2011 census)
Percentage of population associating their national identity as their own country of residence: Scotland 83%, England 70%, Wales 66%
Most popular baby names: Wales - Jacob and Amelia, England - Harry and Amelia, Scotland - Jack and Sophie, N. Ireland Jack and Sophie
---
Incomes and Spending
Average weekly household expenditure: England £491, N. Ireland £480.90, Scotland £437.30, Wales £411.30 (2010-12)
Proportion of children in low income households: Wales 23%, N. Ireland 23%, England 18%, Scotland 17%
Median household wealth: England £224,300, Wales £207,400, Scotland £165,000 (no comparable data for N. Ireland)
---
Economy
Gross Value added per head (GVA): England £21,937, Scotland £20,013, N. Ireland £16,127, Wales £15,401 (2012)
Unemployment rate (age 16+): N. Ireland 7.2%, Wales 6.8%, England 6.8%, Scotland 6.4% (Q1 2014)
Employment rate (age 16 to 64): Scotland 73.5%, England 72.9%, Wales 70%, N. Ireland 67.8% (Q1 2014)
Public sector employment (as proportion of total employment): N. Ireland 27.9%, Wales 24%, Scotland 22.1%, England 17.4% (Q4 2013)
Gross disposable household income: N. Ireland £13,902, Wales £14,623, Scotland £16,267, England £17,066 (2012)
Number of businesses per 10,000 adults: England 984, N. Ireland 785, Wales 753, Scotland 740 (start of 2013)
---
Environment
Household waste recycling rate: Wales 49%, England 43%, Scotland 41%, N. Ireland 40% (2011/12)
Share of UK's Greenhouse gas emissions: England 77%, Scotland 9%, Wales 8%, N. Ireland 4% (2011, 3% not allocated)
Share of UK's farming income: England 81%, Scotland 13%, Wales 3%, N. Ireland 3% (2012)
Number of visits by overseas tourists: England 28.6 million, Scotland 2.4 million, Wales 0.9 million, N. Ireland 0.9 million (2013, a visit is a stay of at least one night)