Poorer households council tax support extended in Wales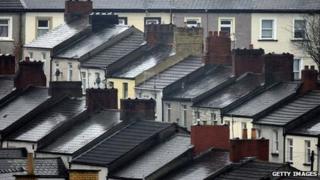 Benefits to help poorer households in Wales pay council tax will be paid beyond the 2016 assembly election.
Council tax benefit was devolved to Wales two years ago, but the budget was cut by £22m at the same time.
The benefit, now called council tax support, had already been extended to cover the 2014-15 financial year.
Welsh ministers said it would continue in 2015-16 and 2016-17. This was welcomed by opposition parties but they said a long-term solution was needed.
Local Government Minister Lesley Griffiths said: "Whilst the Welsh government has provided an additional £22m to fund the scheme in 2013-14 and 2014-15, it has protected around 320,000 households across Wales.
"I am pleased it will continue for at least two more years.
"This will help to offset some of the impacts of welfare reform in Wales.
"Contrast this to England, where over two million low-income households are paying more of their council tax bill following the abolition of council tax benefit."
Initially, in 2012, Welsh ministers said they could not afford to fill the £22m shortfall, and AMs were called back to Cardiff Bay during the Christmas recess to approve the new rules.
But a month later the decision was reversed, meaning more than 300,000 households still got their benefits.
'Lifeline'
The Liberal Democrats welcomed the move to extend the support, but their spokesman Peter Black warned the arrangement was "only a short-term one".
"With the amount to be spent on council tax support projected to increase dramatically under this system, it's crucial that we plan for the future and create a long-term solution."
Plaid Cymru housing spokesman Rhodri Glyn Thomas agreed a more durable system was needed.
"Having lead the campaign on council tax support, Plaid Cymru will continue to work with the government to introduce a long-term support package for Wales' most vulnerable residents so that those residents don't have to go from year to year wondering whether or not they'll get the financial lifeline they need," he said.