Kirsty Williams: Lib Dems must 'fight' to bounce back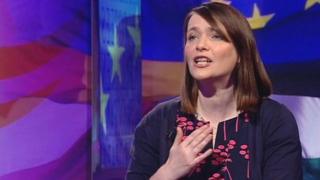 Every Liberal Democrat needs to "join the fight" to bounce back from its European election results, the party's leader in Wales, Kirsty Williams, says.
The Lib Dems finished sixth in Wales, behind the Greens, with 4% of the vote and lost 11 of its 12 MEPs in the UK.
Ms Williams said the party needs to be clearer about why it formed a coalition with the Conservatives at Westminster in 2010.
But she said party leader Nick Clegg was not to blame for the poor results.
"I think what's really important is to be able to articulate very clearly that the reasons why we took the decision to go in to coalition in the first place," she said.
"I think perhaps we had decided we didn't need to do that any more, but I think we need to relay the reasons why we took the decisions that we did.
"We need to articulate very clearly what the Liberal Democrats are for, and what people will get if they vote for us.
"And we need to understand that nobody else is going to do that for us. The Daily Mail is not going to wake up tomorrow and start writing benign stories about the Liberal Democrats - we have to do that for ourselves.
"Every single person needs to join the fight".