Scottish plans 'game-changer' for Wales, says Davies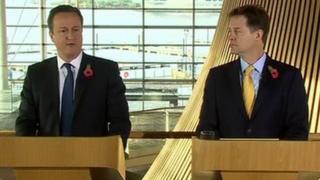 A Conservative Party report calling for Scotland to take more control of income taxes is a "game-changer", Welsh party leader Andrew RT Davies has said.
UK ministers want a referendum on giving Welsh ministers powers to vary income tax rates but with restrictions.
Unlike the new Tory plans for Scotland, each Welsh income tax band could only be moved at the same time and by the same amount - a so called 'lockstep'.
Mr Davies previously sacked four of his team members for backing the lockstep.
Currently Welsh ministers have no control over income tax.
The Silk Commission on devolution in Wales has called for a system where the Welsh and UK governments share the yield from income tax - a proposal backed by all four party leaders in the Senedd.
For example, with the 20p basic rate of income tax, 10p would go to the Treasury while the Welsh government would get the other half.
Under the proposals Welsh ministers would be able to vary the Welsh element of each rate, raising or lowering their half of each rate as they see fit. The other half of the rate would remain a matter for the UK government.
However, UK ministers' proposals, contained in the Wales Bill currently progressing through Parliament, would not allow the Welsh government to change one tax rate without changing all the others.
Critical
It means if Welsh ministers decided, for example, to add or take a penny off the basic rates of income tax, they would have to do the same to the higher rate of tax, and vice versa - the lockstep.
On Monday, the Strathclyde Commission recommended that, if Scotland votes no to independence, the Scottish government should eventually be responsible for raising around 40% of the money it spends.
There have been suggestions that the lockstep should now be dropped from the Wales Bill in the wake of the Strathclyde proposals for Scotland.
Answering questions from journalists at a media briefing in the Senedd, Mr Davies said: "This has been a game-changer, there is no doubt about that.
"How the Wales Bill will look by the time it comes out of the House of Commons - that will be for colleagues up there to decide.
"That's a question to be put up in London rather than here."
He said he had discussed the issue with Welsh Secretary David Jones - who backs the lockstep approach - at a meeting in London on Monday.
Earlier this year, Mr Davies sacked four members of his front-bench team for failing to support an assembly vote in favour of devolving income tax without the lockstep.
Mr Davies has criticised the lockstep while the colleagues he sacked said they were supporting the policy of the UK coalition government.