'Clarify' role of Finance Wales say AMs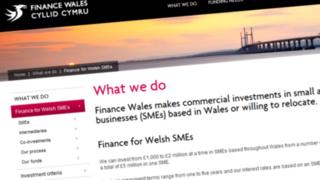 The role of an investment bank Welsh ministers set up to boost small businesses needs clarifying, according to a key assembly committee.
Finance Wales lends money to or buys shares in Welsh firms and invested £33m in Wales last year.
The Finance Committee's report says the Welsh government should explain how it balances making money with boosting economic development.
A previous review accused the bank of focussing more on generating profits.
Last November, business expert Prof Dylan Jones-Evans asked if it was essentially being run as a commercial fund manager and called for it to be scrapped.
Welsh ministers said they would respond to this latest report "in due course".
The review calls on them to "clarify the aims and remit" of Finance Wales.
"These should set out the balance between its dual roles of achieving a commercial return and contributing to economic development," the report says.
Scrutiny
Committee chair Jocelyn Davies said the body was "well-regarded", despite "a great deal of speculation in the media".
"Finance Wales' problems seem to stem from a lack of communication and information over what it is for and how it can help small and medium sized businesses," she said.
"We believe the Welsh government should clarify the purpose of Finance Wales and that the organisation itself could benefit greatly from some marketing and communication campaigns to inform Welsh businesses of how it can help them."
The report calls for Finance Wales to review its businesses practices to "ensure it is delivering" for small firms.
It also suggests the body should face similar scrutiny as other public bodies, and present its annual report and accounts to an assembly committee each year.
In a statement the Welsh government said: "We thank the Finance Committee for the report.
"We will consider it and respond to the committee in due course."