Nick Clegg's leadership endorsed by Kirsty Williams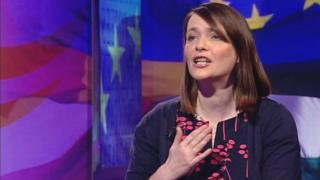 Nick Clegg is the right person to lead the Liberal Democrats into next year's general election, the party's leader in Wales, Kirsty Williams has said.
Ms Williams said Mr Clegg stood up for what he believed in during the party's ill-fated Euro election campaign.
She said the two had exchanged text messages and he was "disappointed" but "determined to stick to his guns".
Earlier it emerged Lord Oakeshott had quit the party warning it was "heading for disaster" under Mr Clegg.
The peer was previously a Lib Dem Treasury spokesman.
His criticism followed the party's dire performance in the European elections, which left it with just one MEP.
Speaking to The Wales Report, Ms Williams said: "Nick has had the courage of his convictions during this election campaign to make a positive case for what the Liberal Democrats and the Welsh Liberal Democrats believe in
"I cannot be any clearer.
"I think Nick Clegg is the right person to lead this party into the general election and what we need to do now is re-double our efforts and explain to the people of this country why we took the decision to be in coalition government and what the Liberal Democrats are achieving as part of that government."
Ms Williams said she had exchanged text messages with Mr Clegg "over the last few days".
"He's tired, and obviously he is disappointed, as disappointed as I am to see the results come in from the local elections last week in England and from the Europeans.
"But he is determined to stick to his guns and to continue to play what is a very important role".
Lord Oakeshott, seen as close to Vince Cable, quit after it emerged he commissioned polls suggesting the party would do better without Mr Clegg.
Mr Cable has denounced his actions but the peer said the business secretary knew about the poll and its findings.
Nick Clegg has accused Lord Oakeshott of seeking to "undermine" the Lib Dems and senior party sources have told the BBC the peer had been "disowned" after a "shambolic attempt at a coup".
The Wales Report, BBC One Wales, 22:35 BST and the BBC iPlayer