Euro election: Wales' new MEPs preparing for Brussels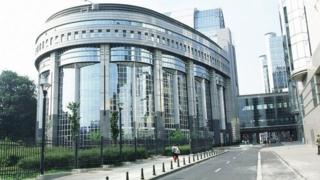 As the fall out from the European elections continues, the four new Welsh MEPs have a month or so before they're required for the first meeting of the new European Parliament on 1 July.
The unrelenting slog of political campaigning may be over, but now the four have secured their places in Brussels for the next five years the political hamster wheel starts turning again.
Three of the four MEPs from Wales - Derek Vaughan of Labour, Conservative Kay Swinburne and Plaid Cymru's Jill Evans were re-elected - while UKIP's Nathan Gill was elected for the first time.
Labour topped the poll in Wales, but was unable to secure the two Welsh MEP's it targeted. Derek Vaughan will represent Labour and Wales in Brussels for the next five years though.
He tweeted on Tuesday: "On way to London for first meeting of UK Labour MEPs. Good thing there are now more of us because a third of UK MEPs won't do any work."
UKIP MEP for Wales Nathan Gill was back on Anglesey after a whistle stop trip to London yesterday to meet the 23 other UKIP MEPs - including Nigel Farage.
Mr Farage said that his party's greatest success on election night came in Wales as UKIP came second to Labour by only 0.6%.
"I'm delighted that Nigel Farage said that the result of the night was in Wales - and for us that's a great vindication of what we've done," said Mr Gill.
He added that after attending "some celebratory meals and branch meetings" he and fellow UKIP members from Wales will be concentrating on helping the party win next week's Newark by-election.
Kay Swinburne will be returning to Brussels as Conservative MEP, and is at home in Cardigan catching up with her children over half-term - having hardly seen them during the previous month of campaigning.
Hours after her re-election, Dr Swinburne was analysing the election data with Conservative party officials in Cardiff - and she'll return for a board meeting at the end of the week.
Although there were concerns Plaid Cymru would lose their seat, Jill Evans eventually secured a fourth term.
She's spent more time in Brussels than her Welsh MEP colleagues - and by Tuesday lunchtime was back again for a meeting of the European Free Alliance group which she chaired during the last parliament.
Bigotry
She said: "The likelihood is that the group will align itself with the Greens as it did in the last Parliament. We would be the 4th biggest group in the Euro Parliament."
One party without a Welsh MEP is the Liberal Democrats after finishing in sixth position behind the Greens.
That result has led senior Welsh Liberal Democrat assembly member to criticise their campaign and leader Nick Clegg's performance in election debates with Nigel Farage.
In a blog post Peter Black said: "Those who had prepared him for this debate had forgotten one golden rule: passion comes from spontaneity. That was lacking in Clegg's performance and as a result he looked less sincere and not in command of his brief. That is a lesson that needs to be learnt for the general election."