Welsh tourist industry enjoys Easter boost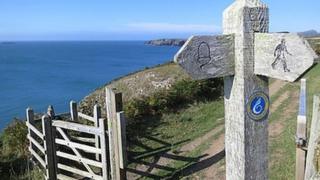 Wales' tourist industry received a boost over Easter, a survey for tourism promotion body Visit Wales indicates.
44% of tourism businesses reported having more visitors or guests than last Easter, 32% said they had a similar level and 19% reported a fall.
Most firms whose business was up said it was due to better weather, while a quarter credited the late Easter.
Ministers said reaction to the latest marketing campaign was positive and they were pleased confidence was high.
87% of firms said they were confident about the summer season ahead.
Tourism Minister Edwina Hart said: "Visit Wales' marketing work continues and reaction to the new campaign has been very positive with the campaign already achieving its response targets.
"Traffic to the website also saw a big increase, following the launch of the campaign with, 53% more visitors from the UK going to the website for information in March [and] a further increase of 42% in April."
Figures released last month showed 9.93 million people visited Wales from the rest of the UK, an increase of 3.4%.