Final campaigning by parties before European elections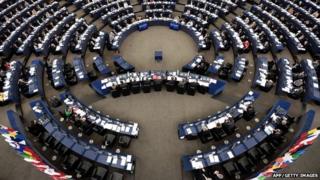 Political parties in Wales are spending their final day campaigning before Thursday's European elections.
Eleven parties are putting up candidates for four seats representing Wales in the European Parliament.
At the last elections, in 2009, the seats were won by the Conservatives, Labour, Plaid Cymru and UKIP.
Polls will be open from 07:00 to 22:00 BST on Thursday, counting takes place on Sunday evening. No local elections are being held in Wales.
The Welsh Conservatives, and their lead candidate Kay Swinburne, have put their pledge to reform the EU at the heart of their campaign.
The party claims it would be the only one able to deliver "reform, renegotiation, and a referendum".
David Cameron has promised to hold a referendum on EU membership in 2017, if the Tories win the next general election, so people can decide if they are satisfied with the concessions his government has negotiated.
Labour has argued it is the only party offering "solid, progressive policies" to address what it calls "the cost of living crisis".
Living costs were also highlighted by Labour leader Ed Miliband, who made two campaign visits to Wales.
Promising to get new investment to create jobs while protecting workers' rights, the party's lead Wales candidate, Derek Vaughan, emphasised the benefits of remaining part of the EU, including "the best part of £1bn a year of European funding".
Plaid Cymru insisted it is the only party standing up for Welsh interests in Europe, and called for skilled migrants, such as doctors and university lectures, to be encouraged to move to Wales.
Plaid's pledges included the creation of 50,000 Welsh jobs and better public transport links.
The party's lead candidate, Jill Evans, stressed there was "a huge amount at stake" at the election, including 150,000 Welsh jobs depending on trade with the EU, together with funding for investment, training, education and infrastructure.
UKIP leader Nigel Farage cancelled plans for an election walkabout in Swansea city centre on safety grounds, but said his party was growing very quickly in Wales and "being accepted more and more".
He called on voters to get back at a "political establishment" that had "given away our country, given away control of our borders and denied us a say on these things".
UKIP is aiming to get Nathan Gill elected as one of the four MEPs for Wales, and is campaigning for an immediate referendum on leaving the EU.
The Liberal Democrats emphasised the benefits of being a member of the European Union, saying one Welsh job in every 10 depends on trade with the EU.
Alec Dauncey, who is hoping to become the first Lib Dem to secure a seat as a Welsh MEP, argued the other political parties' positions on Europe are unclear, apart from UKIP.
Describing UKIP plans to remove the UK from the EU as "catastrophic", Mr Dauncey urged everyone wanting to protect Welsh jobs to vote for his party.
Six other political parties are standing in Wales in the European Parliament elections on Thursday 22 May.
A list of all candidates is available here.