UKIP referendum pledge 'simplistic', say Conservatives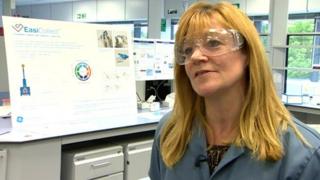 The Welsh Conservatives have renewed their attack on UKIP in the final days of the European election campaign.
The Conservative lead candidate in Wales, Kay Swinburne, said UKIP's promise of an immediate referendum on EU membership was "simplistic".
But Tory policy of renegotiating the UK's EU membership before a referendum was hard to communicate, she conceded.
Ms Swinburne said only her party was committed to holding a referendum and was able to honour that pledge.
The Conservatives have pledged to hold an in out referendum if they win next year's UK general election.
'Larger reform'
Ms Swinburne was speaking on a visit to GE Healthcare's medical research facility in Whitchurch, Cardiff, and suggested the firm would benefit from Conservative efforts to reduce the "burden" of EU employment regulations.
"We've started to make sure that we are renegotiating on a piece-by-piece basis when it comes to legislation, and we've already set in place the foundations for that much larger reform and renegotiation that hopefully will happen over the next couple of years," she told BBC Wales.
"I think the lesson I've learned is that it's very difficult to communicate that on the doorstep, it's very difficult to explain to people the difference between why you have to have that reform and renegotiation before a referendum, rather than the other way round."
Ms Swinburne, the Conservative MEP for Wales since 2009, argued UKIP had "confused things" by offering a "very simplistic message that a referendum needs to be happening now".
"Of course they can't deliver that, it has to be delivered from Westminster, and the only party promising that at Westminster are my own, the Conservative Party".
Ms Swinburne said she had one simple message to voters: "It really is important, for as long as we are part of Europe we need to engage with it.
"You need to send really hardworking MEPs who are prepared to speak out for Wales and fight for what they believe in, and actually go out there and do the hard work.
"That's what I have done for the last five years, it's what I will do if I'm re-elected on Thursday."
'Red tape'
Speaking earlier, she said GE's advances in medical technology and engine testing at Nantgarw put it "in the top tier of Wales-based companies which are leading the world in research and innovation".
Ms Swinburne said the EU needed to become more competitive to "support businesses, jobs and growth, not work against it with over-regulation and anti-competitive measures".
"Conservative MEPs have already led the drive to cut EU red tape for small firms," she said.
"Larger firms will also get our support too as they seek to trade with the world and create even more jobs at home."
A list of all candidates and parties in Wales standing in the European Parliament elections, on Thursday 22 May, is available here.