UKIP criticism is 'media witch-hunt,' Nathan Gill says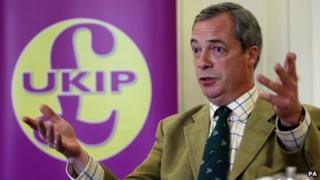 Nathan Gill, UKIP's European candidate in Wales, claims there is a "media witch-hunt" against the party.
He has defended leader Nigel Farage's comments about Romanian immigrants.
Politicians from the major parties have criticised Mr Farage for saying he thought people would be concerned if a group of Romanians moved in next door.
Nathan Gill said the party is "not against immigration from any group whatsoever" but believes people should be "vetted properly".
On Sunday, Mr Farage said he regretted his form of words but said there was a "real problem" of Romanian criminality.
In an interview for LBC Radio on Friday, Mr Farage was asked what the difference was between having a group of Romanian men and German children as neighbours.
"You know what the difference is," Mr Farage replied.
He added: "I was asked if a group of Romanian men moved in next to you, would you be concerned? And if you lived in London, I think you would be."
Labour leader Ed Miliband said the comments were a "racial slur", while Lib Dem leader Nick Clegg said the remarks had no place in modern Britain.
Mr Farage rowed back on his comments on Sunday, saying: "I regret the fact that I was, sort of, completely tired out, and I didn't chose, I didn't use the form of words in response that I would have liked to have used.
'Romanian immigration'
"Too much criminality from those gangs from Romania has come to London - I could have been clearer. But, do you know what? In life, sometimes we get things wrong," he added.
Mr Gill defended Mr Farage's comments saying the reason "he's been talking so much about Romanian immigration into Britain is the fact that we cannot control it".
He added: "If we vetted properly, if we allowed in people with the skills and the needs we need, then nobody would fear who moved in next door to them.
"We are not against any immigration from any group whatsoever.
"What we want and what we've said all along is that we're pro-immigration, but we are pro-controlled immigration.
"We don't care if they come from Romania, Bulgaria, India or China as long as they have the skills that we need and we need them."
'Positive message'
A series of negative newspaper stories about UKIP is part of a "sustained and long-lasting media witch-hunt", according to Mr Gill.
The former businessman who lives on Anglesey said: "There are bad eggs in our party, there are bad eggs in every party and when we find them we weed them out.
"It's very disappointing when it happens because it takes all of the attention away from the message that we have, the positive message and the message that people really agree with.
"As the opinion polls are showing we're continuing to rise in the polls because people can see through that, they do realise that this really is a very sustained and long-lasting media witch-hunt and it isn't what the party is about."
UKIP is aiming to get Nathan Gill, who stood for the party in the Anglesey assembly by-election last summer, elected as one of the four MEPs for Wales.
The party currently holds one of those four seats, alongside the Conservatives, Labour and Plaid Cymru.