Parents to help shape Wales's curriculum review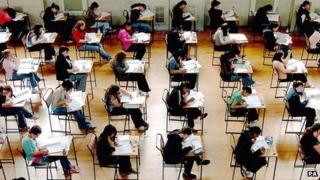 Parents and pupils are being asked to give their views on the school curriculum as part of a review to improve education standards in Wales.
The Welsh government has appointed an advisor to look at how children should be taught and assessed in future.
Prof Graham Donaldson wants people and organisations to shape its findings.
In January, school inspectors raised concerns about the "variable" quality of teaching and standards generally, especially in secondary schools.
A month earlier an international study showed Wales had fallen behind the rest of the UK significantly in reading, maths and science for the third time.
Education Minister Huw Lewis announced in March that he had appointed Prof Donaldson from the University of Glasgow to conduct a "comprehensive, wide ranging and independent" study of Wales' school curriculum.
Two questionnaires have been produced by the professor for adults and young people to be submitted by 30 June.