'No plans' to scrap Wales Office, says Ed Miliband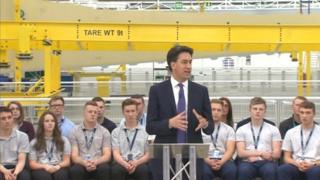 Labour leader Ed Miliband has said he has no plans to scrap the Wales Office, should his party win power next year.
The New Statesman has reported Labour figures want to close it to save money.
Mr Miliband said: "I think that the Wales Office does an important job, the Shadow Welsh Secretary, Owen Smith, does a great job, and I've got no plans to do that".
He was speaking to BBC Wales on a European election campaign visit to the Airbus factory in Flintshire.
The New Statesman report, on Thursday, said many inside and outside the Labour Party believe the Wales Office should be consolidated within an "Office for Devolved Administrations", with junior ministers representing the nations.
The suggestion has regularly surfaced since Welsh devolution in 1999.