'People of Wales should rule Wales', says BNP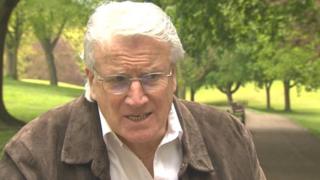 The British National Party (BNP) has called for the "people of Wales to rule Wales", as it campaigns for the European elections.
The BNP lead candidate for Wales said the party thought Parliament was now run by "foreigners" and "interlopers".
Mike Whitby said those politicians wanted to "destroy the British people" and "our race" is being "eradicated".
The party's pledges include "banning the burka", stopping immigration and "British Jobs for British workers".
The BNP says it is committed to "scrapping the bedroom tax" and taking the UK out of the European Union.
In 2009, the party received around 1,000 fewer votes than the Greens in Wales, but in England it won its first two seats in the European Parliament, including one for BNP leader Nick Griffin.
The party's poll ratings have fallen sharply since then and it has lost members including one of its MEPs, Andrew Brons.
He set up his own party, amid internal feuding.
"Our main message is the people of Wales should run Wales, the people of England should run England, Scotland the same, Northern Ireland the same," said Mr Whitby.
"At the moment, Parliament is run by foreigners, interlopers and the sons and daughters of those people.
"And most of them are millionaires, they're not real people.
"They haven't been to the schools and colleges we've been to.
"They don't even understand our culture and they have an agenda to destroy the British people," Mr Whitby added.
Launching the BNP campaign last week, Mr Griffin said the European polls would hinge on "our issues", telling the BBC his party had brought the debates on cutting immigration and leaving the EU to public prominence.
He said there was "huge support" for BNP policies, despite "persecution" by the media.
A list of all candidates and parties in Wales standing in the European elections, on Thursday 22 May, is available here.