Councils tell head teachers to refuse term-time breaks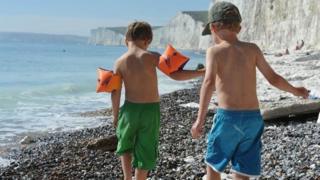 Half of Welsh local authorities ask headteachers to refuse all requests for holidays during term-time, a BBC Wales survey has found.
Schools are allowed to authorise up to 10 days absence per pupil per year.
But under the Welsh government's school assessment programme, known as banding, absences negatively affect a school's score.
Several councils have tightened policies on term-time holidays and others are considering doing so.
The parenting website Mumsnet said the Welsh government policy was 'disingenuous' and left parents in a difficult position because holidays are so much more expensive during school holiday time.
"What parents are finding in Wales is that headteachers are feeling compelled to decline requests for time out of school," spokeswoman Katie O'Donovan said.
"Where the frustration is in the Welsh system is that there's the idea that there's flexibility, that teachers do have the discretion to grant absences but actually in reality they don't have that discretion."
But the National Association of Head Teachers (NAHT) welcomed tighter council policies.
"I believe that all absence is bad for the children so those authorities that are now saying that they won't tolerate any absence are going down the right track," said Chris Howard from NAHT Cymru.
"It's a difficult decision and a difficult message to get over to parents but I think it's the right one."
The Welsh government said parents did not have an "automatic right to withdraw pupils from school for a holiday and they must apply for permission in advance".
Yet it does give schools "discretionary power to authorise up to 10 days absence during a school year for family holidays during term time".
Ministers also confirmed that the school banding system introduced in 2011 takes into account all types of absences when assessing a school's attendance record, because of "the link between attendance and performance".
Since last September councils have had the power to issue fines, known as fixed penalty notices, for "regular non-attendance".
The Welsh government said in a statement: "Upon receiving a request the school should consider a range of factors such as the time of year and length of the proposed trip, impact on continuity of learning, family circumstances as well as the overall attendance pattern of the child."
Travel association Abta said price rises during school holidays were down to an increased demand for flights and hotels.
It said this pressure could be relieved if schools staggered their dates they take their holidays.