Double council tax for top properties, says economist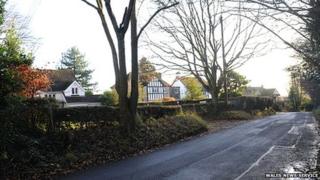 Council tax should be almost doubled for the most expensive Welsh properties and nearly halved for the cheapest, a leading economist has said.
Gerry Holtham says the current system is unfair because it charges proportionately more for cheaper homes than for expensive ones.
He made the call in a report for the Institute for Welsh Affairs (IWA).
Average band A bills would drop from £851 to £459 and band I charges rise from £2,860 to £5,565 under the plan.
Households in band D and above would pay more council tax, those in bands below D would pay less.
Prof Holtham chaired a commission for Welsh ministers on how the Welsh government is funded.
In this report for the IWA, published on Wednesday, he says band A tax bills, for homes worth up to £44,000, work out at just under 2% of the value of the properties.
He says bills for the most expensive properties, valued at more than £424,000, equate to around a quarter of that, at 0.5% of the house value.
Prof Holtham claims making the system fairer would save the Welsh government £50m a year, by cutting the cost of schemes reducing council tax charges for households on lower incomes.
"At present council tax is regressive in property values, going up more slowly than house prices across the range," he said.
"In Wales in 2013 the average council tax on the lowest band, where properties are worth up to £44,000, amounts to nearly 1.9% of the value of the property.
"That falls to nearly 1.5% for properties in the range £44,000-£65,000 and it goes on falling for more expensive properties.
"For properties worth over £424,000, the tax is just over 0.5% of capital value.
"The council tax could be reformed to make it fairer."
'Blaze a trail'
Prof Holtham, previously an adviser to the Welsh government, also says that if income tax is eventually devolved Wales could cut tax for higher earners, because they would be paying more tax on their property.
Stamp duty could also be cut, and the council tax discount for single occupants abolished, he suggests.
Prof Holtham said: "It could use changes in council tax to fund a necessary reform of stamp duty on landed transactions.
"In general, Wales has the opportunity to improve its own tax system and blaze a trail for the rest of the UK."