We are 'pro-EU and pro-reform', say Welsh Lib Dems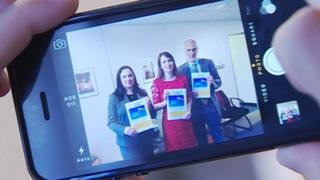 The Welsh Lib Dems have launched their European election manifesto stressing they are big EU supporters but they are not afraid of reforming it.
The event was at technology firm IQE in Cardiff, that has just announced a new deal with suppliers across the EU.
The manifesto outlines priorities including creating more jobs, fighting crime and protecting the environment.
Welsh Liberal Democrat leader Kirsty Williams insisted her party was the only one entirely committed to Europe.
"We have a clear vision for a leaner, more productive Europe which supports Welsh values, Welsh jobs, and the Welsh national interest," she said.
"A vote for the Welsh Liberal Democrats is a positive one - we are the party of IN.
"We want Britain and Wales to stay in Europe - because that is how we keep our country strong, prosperous, safe and green."
But she said the document made it clear that "being pro-European also means being pro-reform".
"While we are committed to remaining part of the EU, we are also committed to reforming it," Ms Williams added.
The manifesto's priorities for the European Parliament are to:
create more jobs from trade within Europe
help fight crime across Europe
protect the environment and create green jobs
reform the EU to cut waste and protect the UK's influence in the Single Market
ensure the Common Agricultural Policy continues to support farming communities in Wales
In the previous European elections, in 2009, the Liberal Democrats came fifth in Wales, with just under 11% of the vote, and the Conservatives, Labour, Plaid Cymru and UKIP won a seat each.
On Tuesday, Welsh Lib Dem lead candidate Alec Dauncey said his party was "leading the fight against the Eurosceptic establishment" and warned threatening to leave the EU was " irresponsible and reckless".
"By being in Europe we can deliver the trade needed to safeguard the economic recovery, boost Welsh businesses, and create jobs for our young people," he said.
"Trade with other European countries supports thousands of Welsh jobs. Why would we want to risk these jobs?
"The best way of securing reform of the EU is by engaging with our neighbours, forging alliances with like-minded states and winning the argument. Threatening exit is dangerous and won't achieve anything."
A list of all candidates and parties in Wales standing in the European elections, on Thursday 22 May, is available here.