European election: A history of the EU vote in Wales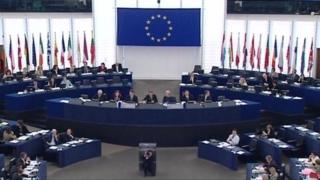 When Wales first voted to elect members to the European Parliament, Prime Minister Margaret Thatcher had been in office for a month and pro-devolutionists were still smarting after a 'no' vote in the first devolution referendum.
Though a European Parliament had existed since 1958, the first direct elections took place in June 1979, six years after the UK joined what was then called the European Community.
Before the 1979 election, members had been appointed from national parliaments.
In the first poll, Wales elected one MEP from each of its four constituencies - mid and west Wales, south Wales, south east Wales and north Wales.
The first election returned one Conservative member and three Labour, including Ann Clwyd who is now MP for the Cynon Valley.
The two other Labour members, Win Griffiths and Allan Rogers, were also later to become MPs, while Beata Brookes served two terms as the Conservative MEP for north Wales.
Among the also-rans in that first European election were Plaid Cymru's Ieuan Wyn Jones, and writer Nesta Wyn Ellis for the Liberal Democrats, who later gained publicity as the biographer of Prime Minister John Major and author of Britain's Top 100 Eligible Bachelors.
Proportional voting
Five years later, the Welsh again voted for three Labour MEPs and one Conservative before a Labour clean-sweep in 1989.
This time Labour's Llew Smith and David Morris both secured a second term and were joined in Brussels and Strasbourg by Wayne David and Joe Wilson.
The UK was allocated more MEPs in 1994 and Wales gained an extra constituency.
At a time when Conservative support was at its lowest ebb, Labour won all five seats comfortably, sending Eluned Morgan and Glenys Kinnock to Europe for the first time.
But it was all change in 1999 with a new proportional voting system and one all-Wales constituency.
Weeks after the first ever National Assembly election, Plaid Cymru performed strongly to take two seats.
Labour retained two, and Conservative Jonathan Evans won the other.
But in 2004, five became four, as across the EU, constituencies were cut to make room for the new eastern European countries joining.
Labour slip
Plaid Cymru lost one of its MEPs and former Welsh Secretary Ron Davies failed to make inroads with a new party called Forward Wales.
When votes were counted in the 2009 European election, Labour had failed to secure the biggest share in Wales for the first time since 1918.
The Conservatives topped the poll, prompting a celebratory visit to Cardiff by the then leader of the opposition at Westminster, David Cameron.
The 2009 poll was also notable for giving UKIP its first ever elected representative in Wales and the Liberal Democrats again failed to win an European seat in Wales.
Labour's pre-eminence since the first elections in 1979 had been severely dented and the party had only one MEP, matched by the Conservatives, Plaid Cymru and UKIP.
You can see the full list of candidates standing in the 2014 elections at bbc.co.uk/walespolitics