Green Party's climate change campaign for Euro election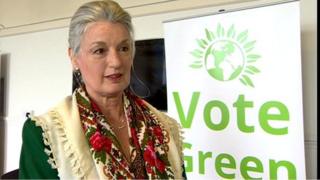 The Green Party has launched its European election campaign in Wales, calling for EU reform and promising action to tackle climate change.
Lead candidate and Welsh party leader Pippa Bartolotti also pledged to invest in "permanently lower energy bills".
She said the campaign was about "the future versus the past" and "hope versus fear".
The party came sixth in Wales in the 2009 European polls, behind the Liberal Democrats, with 5.6% of the vote.
Launching the campaign in Cardiff, two weeks from polling day on 22 May, Ms Bartolotti said it would be "a battle of values as well as policies".
"We are talking about the future versus the past; hope versus fear; decency versus bigotry, science and precaution versus ignorance and recklessness," she said.
She described the Greens as "an obvious home" for disenchanted voters.
"We reject the corporate take-over of democracy and call for reform of the EU," she said.
"It is all very well using a protest vote, but the result is always going to be the same unless you vote Green."
'Economic sadism'
Asked why the party has failed to win representation at any level of Welsh politics, Ms Bartolotti told BBC Wales: "We're not really in this game for power, we're really in this game to influence other parties.
"There should be no need for a Green Party - it's a tragedy that there has to be a Green Party.
"Other parties are interested only in money and in money only for the wealthiest amongst us.
"We see a kind of economic sadism on the poorest in society and yet the richest get tax cuts - people are waking up to this and they're beginning to understand Greens can do something about it," she said.
Ms Bartolotti said a "small amount of Greens" feel the party should not be standing against Plaid Cymru.
Plaid is in danger of losing one of the four Welsh seats in the European Parliament, according to the opinion polls.
"I certainly don't want to be taking a seat from Plaid but this election is Plaid's to lose," she said.
"They should be getting more than one seat in Europe, they are the Party of Wales after all. I'm sorry to see them declining in the polls."
But the leader of the Welsh Greens said her party has been a "strong influence" on Plaid Cymru.
A list of all candidates and parties standing in the European elections in Wales on Thursday 22 May, is available here.