Scots Yes vote would 'boost' Wales, says Leanne Wood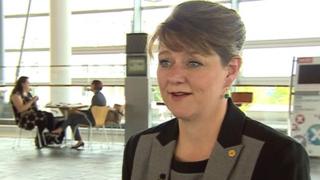 An independent Scotland would boost Welsh hopes of "meaningful self-government", Plaid Cymru leader Leanne Wood has said.
She said it would also improve Welsh economic prospects and create a "progressive social environment".
Ms Wood is meeting Scottish First Minister Alex Salmond in Edinburgh on Wednesday.
Conservatives said Plaid was "increasingly irrelevant", Labour said her comments were "utter fantasy".
Speaking before the meeting, Ms Wood said said it was widely accepted that the UK was too centralised both politically and economically.
"Plaid Cymru is of the view that an independent Scotland would provide the context for a real enhancement of Welsh self-government and would force a rebalancing of the economy in these islands," she added.
"Leading unionists in Wales have already conceded that in the event of Scotland becoming an independent country, Welsh demands for a greater say on our own affairs would have to be respected.
"It is now crucial that Wales is no longer a spectator in terms of a changing Britain, but asserts itself and insists on meaningful self-government."
Ms Wood argued an independent Scotland would be more prosperous, providing a "vibrant market on our doorstep with new export opportunities that would help create jobs in Welsh communities".
A newly independent Scotland, she said, would be likely to implement "typically northern European" social policies, and become a shining beacon for the rest of Britain.
'Global race'
The Plaid leader also alleged an unofficial Conservative-Labour coalition was emerging in Wales working for the long-term survival of the United Kingdom at all costs.
She said the two parties were defending "the supremacy of Westminster sovereignty over the Welsh national interest", on issues ranging from zero hours contracts to the repatriation of European investment in Wales from Brussels to London.
But Welsh Conservative leader Andrew RT Davies said Plaid Cymru's "separatist socialist agenda" would isolate Wales and hold it back in the global race.
"Together, the four countries of the United Kingdom make up one of the most powerful economies in the world, with representation at all the world's main decision-making bodies including the G7, Nato, the European Union and the Commonwealth," he said.
"While we understand why Plaid might want to cling to the SNP's coat-tails, the Welsh separatists are becoming increasingly irrelevant in Welsh politics, with just 5% of the Welsh public supporting Welsh independence."
'Sniping'
Labour AM Mike Hedges said it was "utter fantasy" from Ms Wood, who was indulging in "old fashioned, overblown nationalist rhetoric".
He added: "The only cosy consensus in Welsh politics is between Plaid Cymru and their friends in the Tory party who, week in, week out vote together in the assembly to undermine Welsh success stories.
"While Welsh Labour is building a stronger Wales with programs such as Jobs Growth Wales, which is creating jobs for thousands of young people, both Plaid and the Tories continue to indulge themselves with this sort of irrelevant sniping from the side-lines."