Miliband stresses 'cost of living crisis' in campaign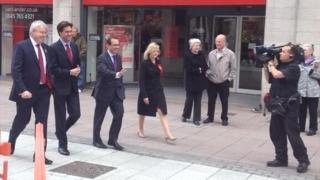 Labour leader Ed Miliband has focused on what he calls the "cost of living crisis" during a European election campaign visit to Cardiff.
He joined First Minister Carwyn Jones and Shadow Welsh Secretary Owen Smith on a walk through the city centre.
They were surrounded by dozens of party members and faced small groups protesting about the Welsh NHS and pay levels in parts of the public sector.
Mr Miliband said he hoped Labour would win two Welsh European seats.
Labour currently has one of the four Welsh MEPs, Derek Vaughan.
Mr Vaughan is the party's lead candidate, followed by Jayne Bryant.
'Bread and butter'
The Labour leader said the campaign was emphasising the cost of living because it was such a central issue in so many peoples lives.
"The reality for many, many people in work is that they are finding that their work is insecure, they are low paid and their issues are not being dealt with by the UK government at Westminster," he said.
"That is why Labour is campaigning on bread and butter issues around the cost of living, an energy price freeze, promoting a living wage which is a very important idea and tackling zero hour contracts."
In a coffee shop, he faced calls from one campaigner to put pressure on the first minister to hold an independent inquiry into the state of the Welsh NHS.
Later, in an interview with BBC Wales, he also said he was sure Mr Jones would look at his proposal to cap rent increases in the private sector.
But he also praised Welsh government policies on housing, such as a registry of private landlords, which he said had gone further than in England to improve standards in the private rented sector.
A list of all candidates and parties standing in the European elections, on Thursday 22 May, is available here.