Welsh ambulance response time target missed again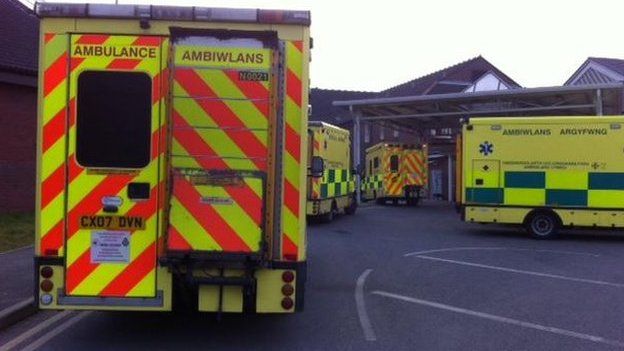 Welsh ambulances have again missed their target of reaching 65% of life-threatening incidents in eight minutes.
The figure for March was 55%, up from 52.8% in February and from 53.3% in March 2013, but still below the target.
Conservatives blamed "record-breaking" NHS cuts, Lib Dems said patients were being "badly let down" and Plaid Cymru said the service was "unacceptable".
Welsh ministers said changes this month to the way ambulance services are organised should improve performance.
Shadow Health Minister Darren Millar said: "Labour's legacy of record-breaking NHS budget cuts has seen beds axed and services cut back leading to full A&E units, so ambulances are unable to swiftly transfer patients and get back on the road to other urgent calls.
"Instead of focusing resources on improving ambulance response times, after nearly two years of missed targets, Labour's response is to discuss scrapping targets and rebranding.
"Labour ministers must reverse their record-breaking cuts and start investing in the ambulance service to improve patient care and speed up responses."
Welsh Liberal Democrat leader Kirsty Williams highlighted the fact that less than half of ambulances met the 65% target of life-threatening calls in Rhondda Cynon Taf, Blaenau Gwent, Caerphilly, Monmouthshire and Cardiff, saying it was a "national disgrace".
"Lives can be lost because of slow response times and people are being badly let down," she said.
Ms Williams said she was also concerned about the "stress our ambulance staff are being put under" and that it must be "hugely demoralising" to work "tremendously hard" and see such figures published each month.
Plaid Cymru health spokeswoman Elin Jones said: "These statistics also show almost 20% of ambulances are taking longer than the expected 15 minutes to arrive at life-threatening incidents, which is unacceptable.
"The recently-published Nuffield report showed that Wales has the worst performing ambulance service of all the UK nations, with Scotland and England able to consistently ensure ambulances arrive within eight minutes over 70% of the time while the Welsh service lags behind."
Responding to the figures, the Welsh government said in a statement: "We are disappointed to note the national response time target was not met.
"New arrangements for the commissioning of emergency ambulance services came into force on April 1, 2014 and we expect health boards to drive forward improved performance over the coming months."
Related Internet Links
The BBC is not responsible for the content of external sites.