£855,000 to help repair winter storm damage before tourist season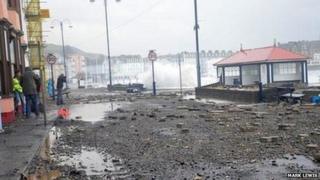 Areas hit by winter storm damage will receive a share of £855,000 to ensure repairs are completed in time for the summer tourist season.
Over half of that money will be split between 17 local councils to repair parts of the Wales Coastal Path.
And £310,000 will be spent on repairing Aberystwyth's promenade and sea wall.
Images of the town being battered by huge waves and high winds were seen around the world earlier this year.
Ministers said the spending announced on Wednesday brings the total level of funding after the storms to £10m.
Coast Path
Finance Minister Jane Hutt said the aim was to "support communities who were hit by the recent bad weather in whatever way we can".
She added: "We have already announced over £10m for emergency flood repairs, to restore damaged coastal areas and to help affected businesses.
"By providing this extra funding for the Wales Coast Path and the regeneration of Aberystwyth we can make sure that people keep coming to Wales to enjoy everything it has to offer."
Three million people are estimated to visit the Wales Coast Path each year, spending more than £30m in the towns and villages nearby.
Regeneration Minister Carl Sargeant said Aberystwyth promenade was "already open for business" and would "soon be restored to its former glory".
Repairs
The money announced for Aberystwyth will be used to repair the surface of the promenade and its sea wall as well as replacing damaged lighting and railings.
Conservatives Shadow Natural Resources Minister Russell George said: "While this late announcement of help for storm-hit areas is welcome, there is no substitute for flood prevention and Labour ministers must start investing to help prevent the sort of decimation that hit many of Wales' vulnerable coastal towns this winter."
But Welsh ministers maintain Welsh flood defences held up well in the winter storms thanks to "significant investment" and say they allocated £7.2m earlier in the year to ensure damaged defences are repaired swiftly.