Labour could use women-only shortlists for council elections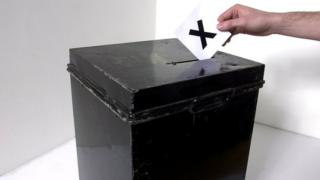 Welsh Labour says it wants half its candidates for winnable seats to be women at the 2017 council elections.
The aspiration could mean the introduction of all-women shortlists to select candidates in some places.
The party stressed it would not impose an all-women shortlist where a sitting male councillor wanted to stand again.
Labour members voted unanimously to aim to achieve the 50% target at the party's Welsh conference in Llandudno last weekend.
Labour said it was wrong to say male candidates would be deselected because there is no preferential treatment for sitting councillors when choosing local election candidates.
Before assembly and general elections, party members are asked whether they want to nominate the sitting AM or MP again.
If the incumbent is not reselected, it opens the door to a full reselection process where other candidates can come forward.
'No apologies'
However, the party always has a full reselection process for candidates before local council elections, a Welsh Labour spokesman said.
The new policy could mean all-women shortlists are introduced where male councillors stand down.
"We already operate on the basis that there must be at least one woman in every multi-member ward," he said.
Local party organisations will draw up plans to help reach the 50% female candidates target, which will then need to be agreed with Welsh Labour head office.
In a statement, the spokesman added: "We make absolutely no apologies for seeking to ensure fair gender representation.
"The current state of affairs is not good and women are under-represented with only 26% of councillors in Wales being women.
"Selections for council seats are conducted on the basis of one member one vote, and are open, fair and done in conjunction with local parties."
'Fundamental'
Last month, a report by a group of experts on diversity in local government, commissioned by Welsh ministers, called on political parties to aim to have 40% female candidates in winnable seats.
On Friday, Prof Laura McAllister, who chaired the group, welcomed Labour's move.
"I'm pleased that the Labour Party has been the first party to nail its colours to the mast and say it fully supports what we recommended in the report, and that, in fact, it's gone a little bit further in saying that fifty per cent of its candidates in Wales will be female," she said.
"I think it's a really fundamental move and something that's got to happen."
Prof McAllister said she would be disappointed if the other main political parties did not make similar announcements.
"I've had plenty of positive remarks to me, and support for the findings of the expert group, so it would be incredibly disappointing if any of the other three parties decided that this wasn't a sufficiently significant issue for them to try and tackle within their own structures, and I'm very much expecting them to want to tackle it."