Second home owners could face double council tax hike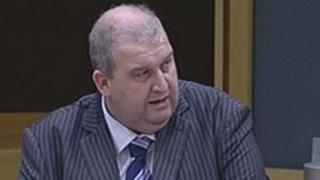 Council tax on holiday and other second homes could be doubled under proposals unveiled by the Welsh government.
Local authorities will have powers to charge a council tax premium of up to 100% on second homes.
The power is contained in an amendment to the Housing Bill, tabled by ministers after a consultation.
Plaid Cymru and local councils welcomed the move, but the Conservatives said people who invest their life savings in a second home could be penalised.
An estimated 23,000 homes in Wales are empty or used as second homes.
Housing Minister Carl Sargeant said he had considered "the impact which second homes may have on the supply of housing at a time when so many individuals and families struggle to attain a home of their own".
'Affordable'
"Whilst second homes can have benefits for the local economy and tourism, the fact they are occupied for part of the year only may have an adverse effect on providers of local services and the availability of affordable housing for local people," he said.
Mr Sargeant said councils with high concentrations of second homes might think it necessary for people who have more than one home to pay a council tax premium "and thus make an extra contribution to the provision of local services and affordable housing though the local taxation system".
The Welsh Local Government Association (WLGA) welcomed the move, but said there was still a case for councils to have "complete flexibility" on fixing the premium.
Dyfed Edwards, the leader of Gwynedd council and WLGA housing spokesman, said he hoped the Welsh government would increase the limit after the new system has bedded down.
"These additional powers should be seen an acknowledgement of the impact that second homes have on the long-term sustainability of local communities," he said.
For the Conservatives, shadow housing minister Mark Isherwood said "vagueness" about the definition of a second home could lead to differing approaches and confusion across Wales.
"There is also a real danger that those second homeowners, who have put their life savings into realising their dreams, will be penalised and hit hardest," he said.
Plaid Cymru housing spokeswoman Jocelyn Davies said the 100% limit was lower than the 200% proposed by Plaid-led Gwynedd council.
"But if this results in any extra social and affordable housing being built, particularly in rural areas of Wales, then it will be a step forward from the current situation," she said.