Big fall in cancelled operations over winter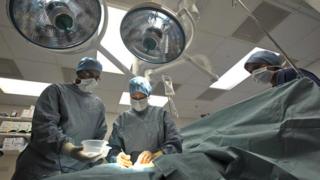 Cancelled operations in the Welsh NHS dropped by almost half this winter compared to the previous year, Health Minister Mark Drakeford has told AMs.
Mr Drakeford asked health bodies and councils to prepare joint plans after heavy snow put extra pressure on the NHS in the winter of 2012/13.
He said the NHS had been "better prepared and better led" this winter.
Last October Hywel Dda health board was criticised for postponing some operations.
Operations such as hip and knee replacements were delayed while the board - which covers Pembrokeshire, Carmarthenshire and Ceredigion - dealt with the additional work.
On Thursday, Mr Drakeford told the assembly's health committee that joint plans by the ambulance service, health boards and councils had resulted in 48% fewer cancelled operations this winter compared to the previous year.
He said: "I believe, and I have said this before, that the NHS went into this winter better planned, better prepared and better led to meet the challenges of the winter.
"Nevertheless the pressures on the system have been real, there have been difficult days over the winter period.
"But if you look across the whole range of indicators - four-hour waits, 12-hour waits, ambulance response times, delayed transfers of care - then I think there is a pattern, that is despite the challenges, despite the fact that there is still a lot of ground to be gained and a lot more we need to do, the NHS in this winter outperformed the position it was in last winter."
On the way resources were divided between emergency admissions and routine surgery, he said: "I think the experience of this winter suggests that a better balance, trying to manage your planned activity, allows the system in the round to respond better to the demands it will face.
"As we pull out of winter... we expect them to move the balance back in the other direction. I'm quietly confident when we see the figures for February and March we will see a bringing down in the number of people waiting for planned operations."
It also emerged take-up of the flu vaccine, offered for the first time this winter for two and three-year-olds, had also increased.
The scheme will be extended to four-your-olds next winter.