Wales' financial powers would be like Scotland's, says Owen Smith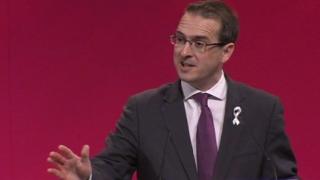 A future UK Labour government would give Wales financial powers like Scotland's, subject to a referendum, the shadow Welsh secretary has said.
Owen Smith told the Welsh Labour conference in Llandudno 15p of the 20p basic rate of income tax could be devolved.
Labour was also committed to bringing back the 50p top rate of income tax if it wins the general election in 2015.
Mr Smith said the Conservatives showed a "sham commitment" to devolution.
"Just as we will deliver symmetry on the nature of the settlement between Wales and Scotland, so too we will look for more symmetry in the tax powers that might be enjoyed if the Welsh people want them," he told the conference.
"That'll mean extending the amount of income tax potentially devolved to Wales, from the 10p proposed by the Tories to 15p, giving Wales control over a third of all the taxes it spends, over 75% of the basic rate.
"Now that would increase the accountability of the assembly and its borrowing capacity, too. It would strengthen Carwyn's hand to stand up for Wales."
A similar deal is on offer from Labour for Scotland.
His comments followed Labour leader Ed Miliband's announcement that Wales' legal powers would be brought into line with Scotland's. Mr Smith continued Labour's fight back against Conservative attacks on the performance of the Welsh NHS, what Labour is calling a "Tory war on Wales".
'Underfunded'
Earlier, Mr Smith told the BBC Radio Wales' Sunday Supplement programme the referendum would only take place if the Welsh government felt that it had what he described as "fair funding".
The Welsh government has argued Wales is underfunded by some £300m a year from Whitehall.
"The referendum would be the same referendum that we've talked about under the Tories right now and it would only happen if the Labour government in Wales decided that fair funding had been sorted out and it was in the interests of the people of Wales - that's the only point that you a trigger a referendum," the Pontypridd MP said.
"It might not happen of course, but I hope it would under a Labour government."
On Saturday Mr Miliband pledged a Labour government would clear up confusion over what the Welsh assembly can and cannot do.
He told conference delegates, his party would legislate so that powers were assumed to be devolved "unless specifically reserved".
In his speech to the conference, First Minister Carwyn Jones admitted there were "unacceptable" examples of poor care in the Welsh NHS.
But he said Labour and people in Wales must fight "bogus" Tory attacks on it.
He accused Conservatives of "willing" the NHS in Wales to have a crisis "on a daily basis".