Lib Dem minister Baroness Randerson backs more AMs call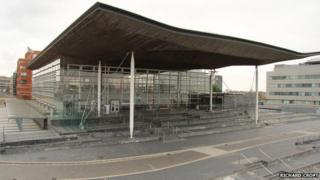 More powers and assembly members are needed to ensure the Welsh government is held properly to account, according to a Wales Office minister.
Baroness Jenny Randerson also said the model of Welsh devolution needs to be rewritten as it is "overly complex".
The Liberal Democrat peer made the comments ahead of a speech on the devolution of further powers.
It marks a dividing line with Conservatives in the Wales Office over the Silk Commission's recommendations.
Set up by the UK coalition government, the commission's second report said that, among other things, control over policing and large-scale energy projects should be the responsibility of the Welsh government.
It also suggests the number of assembly members is increased.
However, the submission by the coalition government, of which Baroness Randerson is a member, to the Silk Commission said it did not believe there is a case for "radical" changes to Welsh devolution.
Speaking to BBC Wales before her speech at the Maldron Hotel on Thursday evening, Baroness Randerson said she and the Liberal Democrat party "is very broadly supportive of the Silk recommendations" and "keen to see them implemented".
The former Liberal Democrat AM believes more politicians in Cardiff Bay will improve government scrutiny.
'Simplify it down'
"I think one of the problems we have with the Welsh government is that the assembly needs further powers and further members in order to enable them to hold the Welsh government strongly to account," said the Parliamentary Under Secretary of State at the Wales Office.
She also called for the simplification of an "overly complex" model of devolution by bringing it in line with the Northern Irish and Scottish devolution settlements.
"A lot of time is spent deciding whether some individual issues are in the power of the Welsh government or the UK government," she said.
"That doesn't apply in either Scotland or Northern Ireland where the devolution settlement and legislation was written in a totally different way.
"I think we've come to the point where we need to simplify it down, so that you create more certainty, not just for both governments involved, but particularly so that you're making it easier for the general public to understand which power lies with which organisation."
Earlier this month Wales' First Minister Carwyn Jones said it would be difficult to get public backing for more assembly members without cutting politicians elsewhere.