Signs hospitals are 'getting safer', says deputy chief medical officer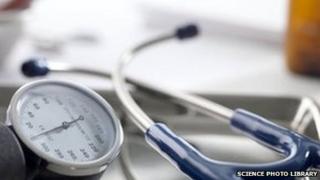 There are encouraging signs that Welsh hospitals are getting safer, according to Wales' deputy chief medical officer.
Dr Chris Jones was speaking as a new version of hospital death rates was published which take into account differences between Wales and England.
Figures from six hospitals with above-average death rates will be reviewed.
The review, by an independent expert, will be carried out to establish whether those higher figures need further investigation.
The hospitals are Neath Port Talbot, Prince Charles in Merthyr, Royal Glamorgan in Llantrisant, Singleton in Swansea, Glangwili Hospital in Carmarthen and Wrexham Maelor.
Dr Jones said: "I think there is a whole lot of evidence that our hospitals are getting safer.
"It's things like infection rates coming down... there are a number of measures which are direct measures of quality which show considerable improvement in recent years."
The review will be carried out by Professor Stephen Palmer of Cardiff University.
Health Minister Mark Drakeford said: "The NHS in Wales needs reliable, high-quality clinical information so it can assess the quality of the services it offers, and make improvements where necessary."
In November, the medical director of the English NHS suggested persistently high death rates in Welsh hospitals should be investigated, in an email to his Welsh counterpart.
Sir Bruce Keogh said data on rates in six Welsh hospitals was worrying but not adequate to "form a view".
The Welsh government ruled out an inquiry and said data for England and Wales could not be compared.
In the email, Sir Bruce offered assistance with an investigation, having recently held such an inquiry into 14 hospitals in England.
Unnecessary deaths
It was reported that no reply was received from the Welsh government.
The statistics are part of a drive to make the NHS more transparent in the wake of the Stafford Hospital scandal.
Last year an inquiry into Stafford Hospital found that years of abuse and neglect at the health trust had led to the unnecessary deaths of some patients.
It comes amid heightened tensions between the governments in London and Cardiff Bay over the performance of the Welsh NHS.
Prime Minister David Cameron has repeatedly criticised the performance of the Welsh NHS and the Labour administration in Cardiff Bay during Prime Minister's Questions.
Welsh ministers are also embroiled in an acrimonious row with the Labour MP Ann Clwyd over hospital death rates and standards of care.
On Friday the Conservatives said the Welsh government's announcement "falls well short of the independent inquiry we have called for".
Welsh Conservative leader Andrew RT Davies said: "Clearly reliable data is essential in understanding performance, but the health minister concedes in his letter to AMs today that the primary focus of this review will be on the way in which mortality data is collected and used - not the mortalities themselves.
"Instead of bullying Ann Clwyd MP and rubbishing the opinions of respected professionals like Sir Bruce Keogh, the Welsh government should have acted to launch a full independent inquiry into mortality rates.
"Instead Labour has just reinforced the impression that they value spin over patient safety."