£1.78m to get school children 'hooked on sport for life'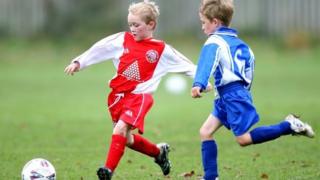 £1.78m is to be spent on getting Welsh school children to adopt healthier, more physically active lifestyles.
Prominent athletes will be involved in community sports days, and more physical activity promoted in schools.
Ministers said they wanted to get children "hooked on sport for life".
The new Physical Literacy Programme for Schools (PLPS) aims to increase sport in schools in Wales, particularly in deprived areas.
A further £2.35m to continue the programme next year has been "agreed in principle", but ministers said this would be "subject to review".
Sport Wales, which promotes sport development, will work with schools to create guidance in the form of a Physical Literacy Framework.
Making the announcement, Education Minister Huw Lewis said: "The significant funding we've announced today will widen children and young people's engagement in PE and sport in schools, particularly within schools in deprived communities.
"Every child in Wales should have a high quality experience of PE and school sport, and every school should value the importance of physical activity to the health and wellbeing of their pupils."
The plans followed a call last year for a National Physical Literacy Framework, by a review led by Baroness Tanni Grey-Thompson.
On Tuesday, she said: "I am pleased that Welsh government has decided to invest not only in the development of a physical literacy framework but also in supporting schools to ensure that every pupil has a high quality experience.
"Being active and taking part in sport has so many benefits that we should be doing everything we can to provide children and young people with the skills and confidence to enjoy a lifelong relationship with sport."
Ministers said the review's recommendation that physical education should become a core subject in the national curriculum will be considered by an investigation into the school curriculum and assessment, led by Professor Graham Donaldson.