Silk says no urgency to devolve policing and youth justice to Wales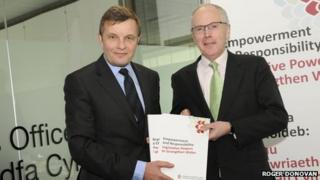 The chair of a commission on Welsh devolution has told BBC Wales he expects most of his latest recommendations to be implemented.
The second Silk Commission report recommended the devolution of policing and youth justice.
However, Paul Silk said he felt no "immediate urgency" that it needed to be done straight away.
A conference organised by the UK's Changing Union project met on Monday to discuss the report.
It also suggested large-scale energy projects should be the responsibility of the Welsh government, and the number of assembly members increased.
The report was broadly welcomed across the political spectrum but Plaid Cymru said it fell short of "real progress".
Welsh Secretary David Jones said the UK government will "consider implementing some of the changes the commission has recommended during this parliament" but added there was insufficient time to implement the big changes that require primary legislation.
Mr Silk said it was "healthy" for the political parties to debate the report internally.
The former assembly committee clerk said: "I think that it would've been arrogant for us to have said, 'well we've produced the last word on all of these things and they shouldn't be debated anymore, they should simply be implemented'.
"Of course we've produced what we think are the right package of changes for Wales but I fully expected people to debate these and debate them vigorously ... if the process of that discussion results in tweaks to what we're recommending then I have no problem with that at all."
The Silk Commission report recommended the proposed changes be adopted over a 10-year timeframe.
Taking time
Mr Silk added: "The Richard Commission [on Welsh devolution in 2004] reported about 10 years ago and virtually all of its recommendations have gradually, bit by bit, been implemented.
"Of course, it'd be great if when you do the work in a commission like this and you produce a report, government said, 'great, we're going to implement that straight away, there's going to be legislation within 6 months to implement it all'.
"But nothing is perhaps of that degree of immediate urgency that it needs to be done straight away. If people take time to consider and do it over a period of time, I'm perfectly happy with that.
"I'm very confident that because we've marshalled the arguments in the right way, our argumentation is right, our evidence is right, then there will be an implementation of what we recommend. If it doesn't happen by next Tuesday, then I'm not so concerned about that.
"I hope and actually expect that [most of the report's recommendations will have been implemented in 10 years]."
The UK government adopted the majority of the Silk Commission's first report, which paved the way towards new tax and borrowing powers for the Welsh government.
Speaking at a conference in Cardiff Bay on the latest Silk report, Professor Roger Scully of Cardiff University's Wales Governance Centre was sceptical of the second report's prospects.
"Many of the key players don't want to do this ... I don't see a great likelihood of this being implemented in full," he said.
Cathy Owens, director of Deryn Consulting and former Welsh Labour government adviser, said politicians had to "make the case for how these changes will benefit the people of Wales".
She added: "The only way to make it happen is to explain to real people why it needs to happen."
The conference was arranged by the UK's Changing Union project in association with the Wales Governance Centre, the Institute of Welsh Affairs, Tommorow's Wales and Public Affairs Cymru.