Arts in education report recommendations to be implemented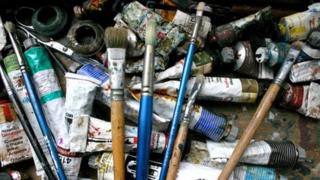 The recommendations in a report arguing arts education should be used to drive up school standards in Wales will be implemented, ministers have said.
The Arts Council of Wales (ACW) report said the arts could boost literacy and numeracy and should not be seen as a low priority for scarce resources.
Plans to bring in the recommendations are expected this summer.
On Friday, report author Prof Dai Smith said the arts could be a potential "game-changer" in education.
He said he was "delighted" by the Welsh government's response.
Education Minister Huw Lewis said: "Learning about the arts and culture, and playing an active part in the cultural life of the school and wider communities, are vital to developing a young person's identity and self-esteem.
"We are fully committed to working closely with the arts and education sectors, and other key partners, in taking forward this vital agenda."
"The recommendation to include creativity in the curriculum will be considered as part of Professor Graham Donaldson's wide-ranging review of curriculum and assessment which I announced this week," Mr Lewis added.