Dafydd Elis-Thomas sacking: Support from committee AMs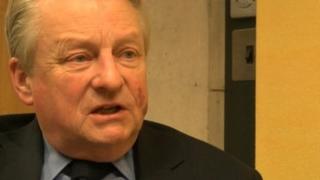 Dafydd Elis-Thomas has won support from members of the assembly committee from which he was sacked as chairman by his party.
Plaid Cymru's decision was "damaging" to the environment committee, said Labour member Mick Antoniw.
Plaid also fired former leader Lord Elis-Thomas as the party's transport spokesperson on Thursday.
It followed his criticism of leader Leanne Wood's attack on UKIP at the party's spring conference.
The former assembly presiding officer told BBC Wales it was "facile" of Ms Wood to say a vote for UKIP in May's European election was a vote against Wales.
It is understood Lord Elis-Thomas met Ms Wood and other Plaid Cymru officials on Wednesday night to discuss his comments.
In a statement on Thursday confirming his sacking, Ms Wood said Lord Elis-Thomas had "decided to publicly oppose Plaid Cymru's position" and that party members "deserve a national party that is united".
Lord Elis-Thomas told BBC Wales the current system where committee chairs were nominated by the political parties undermined the system's independence.
He said he would consider over the weekend challenging a motion to replace him as chair of the environment committee.
"It would give us an opportunity to raise the issue in public and explain to the people of Wales that AMs are more gagged and have less of a democratic scrutiny within their party system than happens even in Westminster," he said.
'Lessons to learn'
His comments have drawn support from fellow members of the environment committee.
Mr Antoniw, Labour AM for Pontypridd, said the committees needed to be "independent of political party influence" and that Plaid Cymru's decision to remove Lord Elis-Thomas as chair was damaging to the committee.
Conservative AM Antoinette Sandbach agreed that "it should not be in the gift of political parties to choose committee chairs".
The north Wales representative added the assembly had "lessons to learn here from Westminster" where committee chairs were elected by backbenchers.
Ms Sandbach said Lord Elis-Thomas's years of knowledge gathered as chairman had been lost and was not "easily replaceable".
"Politically, I didn't always see eye-to-eye with Dafydd Elis-Thomas but I do think he has been a good chair," she said.
Liberal Democrat AM William Powell said he was disappointed with Plaid Cymru's decision to try and remove him as chair adding that Lord Elis-Thomas was a "distinguished, fiercely independent" chair of the committee.
But former Plaid Cymru AM and MP Cynog Dafis said Mr Elis-Thomas was right to be sacked as his comment "undermined the success" of the party's conference.
Plaid Cymru will nominate Alun Ffred Jones for chair of the environment committee while Rhun ap Iorwerth will become the party's transport spokesperson.