'Fast-track' degrees proposed by Welsh Conservatives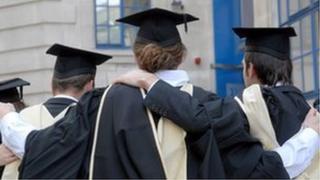 Welsh university students could enrol on "fast-track" two year degrees in certain subjects under proposals unveiled by the Welsh Conservatives.
A year-long consultation on the idea is being launched by the official opposition in the Welsh assembly.
The party believes it could help cut student debt and enable quicker entry to the workplace.
Shorter degree courses were first introduced in some English universities by the Labour UK government in 2006.
The policy would see some degree courses retaining the same content and credits condensed over a two-year period rather than three.
Subjects the party believes could be appropriate for a shorter time-frame include those associated with the hospitality industry and assorted business courses.
'Learning to earning'
Longer degrees such as medicine, veterinary medicine and architecture would remain unchanged.
Launching the policy idea on behalf of the Welsh Conservatives, Shadow Education Minister Angela Burns believes it could "make HE (higher education) more accessible to people from less well-off backgrounds" by reducing the transition from "learning to earning".
Ms Burns said: "Three years is a long time to complete a degree and to delay entering the world of work, so Welsh Conservatives will consult on introducing a fast-track option to reduce the term of study for certain courses to two years.
"Student debt is rising year on year and could in future become a significant barrier to higher education so cutting debt and reducing the time taken to pay the money back could make HE more accessible to people from less well-off backgrounds.
"Over the coming weeks and months Welsh Conservatives will be listening to the views of students, parents, lecturers and educational experts about whether fast-track degrees could have a role to play in Welsh higher education.
"For certain subjects, fast-track degrees could increase the appeal of higher education to potential students and especially mature students," she said.
The Welsh government launched a review into HE and student financing led by Professor Sir Ian Diamond in November 2013.
Responding to the Conservative proposals, a Welsh government spokesperson said: "We want to see a successful higher education system in Wales supported by a robust and sustainable funding regime.
"The review, led by Professor Sir Ian Diamond, will be conducted by an independent panel of experts who are experienced in this field.
"During the course of its work we expect the panel to focus on student finance arrangements across the board.
"As an independent body, it will be for the panel to determine, on the basis of available evidence, which aspects will be explored in detail."
A Higher Education Wales spokesperson said: "While the composition and length of degrees is a matter for individual institutions to comment on, it is worth noting that across the higher education sector in Wales we already have a variety of requirements and periods of study to suit individuals who may not be able to commit to three years full-time study."