UKIP member resigns from council group after Plaid ultimatum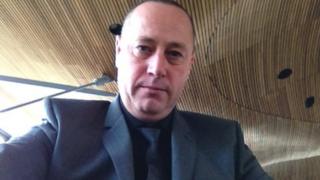 A UKIP member has resigned from a group of independent councillors in Ceredigion, after the Plaid Cymru council leader threatened to break up the ruling coalition if he remained.
Ellen ap Gwynn sacked Gethin James from the cabinet for joining UKIP, but he had remained in the Independents group.
The Independents group accepted Mr James's resignation on Wednesday.
The group then voted to continue in coalition with Plaid Cymru, Independent Voice and a Labour councillor.
Plaid leader Leanne Wood made a strong attack on UKIP at her party's spring conference last week.
She said "a vote for UKIP is a vote against Wales", describing its politics as having "no place in our country".
On Tuesday, it emerged that the council leader had dismissed Mr James from his role as cabinet member for lifestyle services and waste.
It is understood Ellen ap Gwynn then told the Independents' group leader, Ray Quant, a decision needed to be made on Mr James's continued membership of the group, or the coalition would be in question.
Mr James was elected as an independent councillor representing the Aberporth ward.
He told BBC Wales that he joined UKIP three weeks ago and "challenging the vast amount of EU legislation doesn't make me un-Welsh or against Wales".