Plaid issues ultimatum over UKIP councillor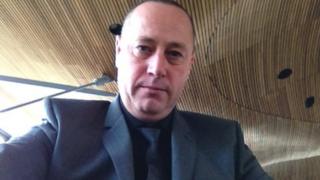 The Plaid Cymru leader of Ceredigion council has told independent councillors their coalition deal with Plaid will end if a UKIP member remains in their group, the BBC understands.
Ellen ap Gwynn sacked Gethin James from the cabinet for joining UKIP, but he remains part of the Independents group.
Plaid Cymru leader Leanne Wood launched a fierce attack on UKIP at her party's spring conference last week.
It is understood Mr James will offer to resign from the group on Wednesday.
In her conference speech on Friday, Ms Wood said "a vote for UKIP is a vote against Wales", describing its politics as having "no place in our country".
On Tuesday it emerged that the council leader had dismissed Mr James from his role as cabinet member for lifestyle services and waste.
It is understood Ellen ap Gwynn has now told the Independents' group leader Ray Quant a decision needed to be made on Mr James's continued membership of the group.
Mr James, who was elected as an independent councillor representing the Aberporth ward, told BBC Wales that he joined UKIP three weeks ago.
Criticism dismissed
At a briefing for journalists at the Welsh assembly on Tuesday, Plaid's South Wales East AM Jocelyn Davies said: "Councillor Ellen ap Gwynn didn't want a UKIP member as part of the cabinet and I think she was right to sack him."
Ms Davies also disagreed with former party leader Lord Elis-Thomas's criticism of Leanne Wood's attack on UKIP during her spring conference speech.
Lord Elis-Thomas called the comments "facile" and said it "assumes a kind of superiority that we decide who is Welsh and who is not Welsh".
But Ms Davies responded: "I'm happy we have a leader who is prepared to challenge UKIP's views and not be drawn to the right like Labour and the Tories have.
"There's been too much dancing to UKIP's tune recently," she added.
Asked about Ms Wood's criticism of the party he had just joined, Mr James said: "Challenging the vast amount of EU legislation doesn't make me un-Welsh or against Wales."