'Time not right' to discuss more AMs, says Carwyn Jones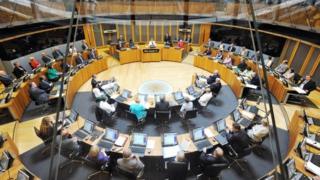 Wales' first minister says it would be difficult to get public backing for more assembly members without cutting politicians elsewhere.
Carwyn Jones was reacting to the Silk Commission's recommendation that the assembly should be expanded and more powers devolved
He said he would not argue for councillors or MPs to be cut "at this moment".
The assembly could "function properly" with 60 AMs, he said.
He told BBC Radio Wales: "I think with 60 we can function properly, although it is right to say with 80, certainly, there's an argument that there would be a greater level of scrutiny for government.
"I'm not saying that 80 is something I would oppose, but I know full well that saying to the public that we need more assembly members and binding that up as part of the package that Silk has put forward, I think, wouldn't attract support for the entire package."
Mr Jones said that although the time was not right to discuss increasing the number of politicians in the assembly, there was an argument for examining the situation in the future.
With 60 AMs the assembly was smaller than some Welsh councils, he said.
"Our back bench assembly members are pulled all over the place at the moment in terms of their workload, no question about that, but they manage," Mr Jones explained.
"At this moment in time it would be difficult to expect the public to back more assembly members if there wasn't a reduction elsewhere," he said.
Youth justice
Mr Jones said it was "a question of getting the mix right" between MPs, councillors and AMs.
"I certainly don't want to say we need more assembly members and therefore I'm going to advocate we should have fewer councillors at this moment in time, with the structure that we have or, indeed, fewer MPs.
"I think what I'm saying to the people of Wales is 'we can manage with 60, but there is an argument for examining the situation in the future.'"
The three opposition party leaders in the assembly chose to highlight other issues during first minister's questions on Tuesday.
On Monday, the Silk Commission recommended control over youth justice and policing should be devolved to Wales, and said other parts of the justice system could follow in future, subject to a review.
It said large-scale energy projects should also be the responsibility of the Welsh government, and the number of assembly members increased.
The report stopped short of specifying a figure but said an increase from the current 60 to 80 "would balance enhanced scrutiny capacity with restraint in public spending".