Silk Commission: Powers' debate to be 2015 poll issue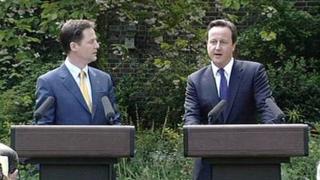 As the UK coalition nuptials reached a climax in the Rose Garden of Downing Street in 2010, few will have paid much attention to a wedding vow which could have profound implications for Wales - a promise to establish a commission on the future of Welsh devolution.
In what has proved at times to be a turbulent marriage between the Conservatives and the Liberal Democrats, the Silk Commission has caused relatively few rows.
Despite the delay, almost all of the recommendations in the commission's first report on tax and borrowing powers for the Welsh government were accepted.
Those financial changes are currently making their way through Westminster's legislative process ahead of next year's general election.
But while the UK government will consider implementing some of the second report's smaller recommendations before the vote in May 2015, Welsh Secretary David Jones said there is not enough time in this parliament to legislate for the bigger changes.
So, a report on whether any further powers should be devolved to Wales becomes an issue for the parties to tackle in their respective election manifestos.
In its evidence to the Silk Commission, the UK government said it did not believe there to be a case for "radical" changes to Welsh devolution.
'Divergence of opinion'
Teachers' pay and rail franchising could be devolved but policing, broadcasting and large energy projects should be the preserve of Westminster in its view - a view most likely to reflect the opinion of the blue corner of the coalition than the yellow.
As for the Welsh government's vision, the first minister said decisions affecting Wales should be taken in Wales on issues such as community safety, crime prevention, big energy projects and water.
However, reported disquiet between Carwyn Jones and Labour's Welsh MPs over his call for the devolution of policing highlighted a divergence of opinion within the party's ranks.
Publicly, the shadow policing minister and Delyn MP David Hanson said at the time it would be a major step with many challenges; privately many Welsh Labour MPs are said to completely reject the idea.
The parties now have little more than a year to consider the report's findings and set out their devolution stall ahead of the next general election.
But with Scotland set to vote in September in an independence referendum that could transform the devolution debate, the parties may not be looking that far ahead.