Wales devolution: 'Fewer MPs needed' if more powers given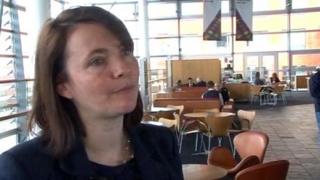 More assembly powers could result in fewer Welsh MPs at Westminster, the leader of the Welsh Liberal Democrats has said.
Kirsty Williams made her comments ahead of a second report on assembly powers by the Silk Commission due on Monday.
She told the BBC's Sunday Politics Wales that questions over the number of Welsh MPs were "inevitable" if there was more power devolved and more AMs.
The report is expected to recommend handing power over the police to Wales.
It is also likely to call for an increase to the current number of 60 AMs in Cardiff Bay, while there are currently 40 MPs representing Wales at Westminster.
Ms Williams said there was an argument to be had about the number of AMs but that should not happen in isolation.
"We need to look at how the whole governance of Wales works and whether we've got the right number of politicians at the right level," she said.
'Stable' settlement
"The Welsh public would like us to move onto a more permanent settlement where we are not constantly having these commissions to try and adjust the devolution settlement," she added.
"I hope that what Silk two comes up with tomorrow is a definite plan of how we can move to a more sustainable and stable devolution settlement so we don't have to keep on having these conversations.
"Once that is clear on what will be the responsibility of the assembly and what will be the responsibility of Welsh MPs in Parliament, then we can have the discussion about what is the right number of politicians that need to do these jobs".
She added: "What I am absolutely clear on is that it cannot cost the Welsh taxpayer any more than it currently does."
The report on Monday will be the second by the Silk Commission, which was set up by the UK coalition government to examine the scope for further devolution to Wales.
The first report, into financial powers, said a referendum should be held on giving the Welsh government powers over income tax rates.