Welsh MPs call for income tax powers referendum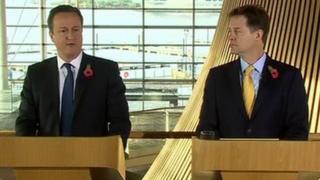 Plans to give income tax powers to Wales should be put to the people in a referendum, MPs on the Welsh Affairs Committee have said.
David Cameron has already offered such powers subject to a referendum.
But First Minister Carwyn Jones says he will not seek such powers until what he calls UK government underfunding of the assembly is addressed.
The committee agreed block grants under the Barnett formula should be examined before the 2015 general election.
The Welsh Affairs Committee was reporting on the draft Wales Bill, which sets out tax and borrowing powers following recommendations by the Silk Commission into further devolution.
The committee said that, by the time of the publication of the Bill, the UK government should fully explain:
How the block grant provided to the Welsh government will be adjusted to take account of the new revenue streams from the devolved taxes
How it aims fully to devolve business rates to Wales
How the borrowing limits set out in the legislation were decided
The rationale for not granting the Welsh government the power to issue bonds
Monmouth MP David Davies, chair of the committee, said: "Any new powers over taxation must be put to the people of Wales in a referendum, and it must be made clear exactly what additional powers could be devolved in future if the referendum is passed, for example if the income tax model was changed.
"We also think there is a case that taxation powers should not be devolved before the issue of the funding formula used to determine the block grant to Wales is resolved.
"If the power to collect certain taxes is devolved to Wales, the block grant will be reduced, and this must not unfairly disadvantage Wales, as the current funding formula does."
'Starting point'
Welsh party leaders, including Conservative Andrew RT Davies, have also expressed concern about the so-called "lockstep" restriction, where tax rates would all have to rise or fall by the same amount.
Mr Davies sacked four members of his shadow cabinet who disagreed with his stance, saying they were backing official UK government policy.
However, the prime minister said earlier this month that the tax devolution proposals were a "starting point" for a debate.
The committee also said the assembly should have the power to decide the length of its own term, rather than have it set by Westminster.
The draft bill proposes permanently extending the length of the assembly term from four to five years.
The current term has been extended by one year to 2016 to avoid a clash with the 2015 general election.