Welsh Tories display united front in Downing Street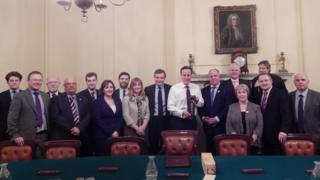 I counted them all in and I counted them all out.
Conservative Members of the National Assembly for Wales, two Wales Office ministers and one MEP arrived this evening for their annual meeting with the prime minister in Downing Street.
It was a routine, long-scheduled meeting although in politics, as in comedy, timing is everything and tonight's 45-minute gathering followed recent turmoil in Welsh Tory ranks. (One MP had suggested cancelling the meeting to avoid the media portraying it (perish the thought) as a crisis summit).
I asked the first five AMs to arrive "where's your leader?" The response from Janet Finch-Saunders - "Which one?" - gave an indication of the party's recent problems.
I asked Welsh Tory Andrew RT Davies, on his way in, if it was a crisis summit, to be given the cheerful reply: "What crisis?"
Mr Davies and Welsh Secretary David Jones arrived separately but emerged from Number 10 together to offer a rare joint interview.
"We actually haven't got any differences," explained Mr Jones. Not even on the model of devolution being offered? The secretary of state replied: "The policy that we've announced is party policy and I think we've agreed on that."
Mr Davies said it had been a positive meeting that had looked at the economy, jobs and rail electrification. Problems facing the Murco oil refinery in Milford Haven were discussed. The Welsh government's record on health and education may also have cropped up.
And no-one, not the prime minister nor those sacked from their shadow cabinet jobs, mentioned that recent reshuffle in the Bay.