Some HE review findings to be published before election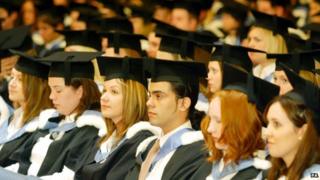 Some findings of a review into how Welsh university students are funded will now be published ahead of the 2016 assembly election.
The Welsh government had wanted the review to report after polling day.
But ministers say a "factual summary" of the evidence gathered by the inquiry will be published in autumn 2015.
Currently, students from Wales only have to pay the first £3,500 of any university tuition fees, the rest is met by the Welsh government.
It means that for every student from Wales studying at an English university, the cost to the Welsh government is up to £4,500.
Following Wednesday's announcement, the other three parties in the assembly have said they will now take part in the fees review - after previously refusing to do so.
Education Minister Huw Lewis said last November that the inquiry, led by Aberdeen University vice chancellor Prof Sir Ian Diamond, was being deliberately timed to report after the poll.
Spring start
Mr Lewis said an "enduring settlement" was needed, above the "sound and fury" of election campaigns.
In Wednesday's written statement from Mr Lewis, the minister said the review will now start in the spring.
"In autumn 2015, Sir Ian will produce a factual summary of the evidence he and his review team has collected as part of their work," he said.
"His final report, including his final recommendations, will be issued by September 2016."
Opposition parties have welcomed the announcement.
Shadow Education Minister Angela Burns said the Conservatives had "played a key role" in preventing Labour ministers from "kicking the pressing issue of higher education funding into the long grass".
"Labour's current tuition fee subsidy is unsustainable, is a drain on taxpayers and is sending tens of millions of pounds to English universities, so I am hopeful that this review will be able to recommend a suitable replacement," she said
'Necessary' review
Plaid Cymru education spokesman Simon Thomas said: "Plaid Cymru has always advocated a two part approach to ensure all parties, including the Welsh government, produce policies or principles for the 2016 national assembly elections.
"A two part approach allows for flexibility the Party of Wales believes is important to facilitate proper political debate at the time of an election and is similar to recent commissions such as Holtham and Silk."
Liberal Democrat education spokesman Aled Roberts said current higher education funding was "unsustainable" and the review was "both necessary and welcome".