Wales unemployment falls by 12,000 to a rate of 7.1%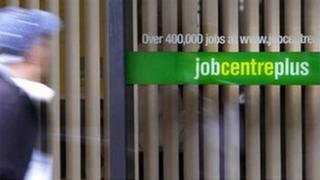 The unemployment rate in Wales has fallen to a rate lower than that for the UK as a whole, the Office for National Statistics has said.
The number of people out of work in Wales fell by 12,000 to 105,000 in the three months to December, a rate of 7.1%.
The new UK average is 7.2%.
Across the UK, 2.3m people were unemployed, 125,000 fewer than last summer, while average earnings increased by 1.1%.
The last time Wales had a lower rate of unemployment than the UK average was from April to June 2009, when it was 7.6% in Wales and 7.8% across the UK.
Wales had the same unemployment rate as the UK average from January to March 2011, at 7.8%.
UK Employment Minister Esther McVey said: "With Wales seeing the largest annual increase in the employment rate out of all the UK regions - up 2.1 points to 70.8% - it's clear that the government's long-term plan to build a stronger, more secure economy is helping businesses create jobs and get people into work.
"Across the UK, employment continues to increase and youth unemployment continues to fall, which means more people have the security of a regular wage and can plan for their future."
Young recruits
First Minister Carwyn Jones welcomed the lower jobless rate in Wales.
"Youth unemployment is also below the UK average, with a dramatic 22.5% reduction in the number of 16-17 year olds without work in Wales over the past 12 months compared to a drop of just 1.2% in the rest of the UK," he said.
"These figures are clear evidence that our policies are ensuing our economic recovery is faster and stronger than in the rest of the UK."
The Federation of Small Businesses (FSB) said surveys indicated its members now have the confidence to take on staff.
Janet Jones, who chairs its Welsh policy unit, said: "One way that our members have been able to take on young people is through the Young Recruits Programme apprenticeship scheme, which has proved so popular that it has been oversubscribed.
"It is clear that such schemes can make a real difference in helping small firms to tackle youth unemployment."