£189m deal for free bus pass scheme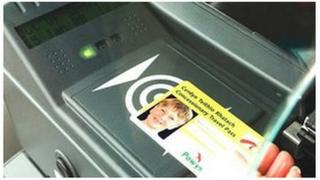 Wales' free bus travel scheme has been awarded £189m funding for the next three years by the Welsh government.
Armed forces personnel and veterans, people with disabilities and the over-60s can use local buses for free.
The subsidy for bus operators will fall following a review, to ensure they are "no better off and no worse off" for carrying pass holders, ministers said.
Operators will be given 64% of the cost of the average single fare from April, reduced from just under 74%.
Local authorities will receive a total of £65m, £63m and £61m for each of the next three financial years to run the scheme.
Transport Minister Edwina Hart said the free passes helped "some of the most vulnerable in our society access essential services".
"We have always operated this scheme on the principle that bus operators who carry pass holders are no better and no worse off," she said.
"The independent review found that the reimbursement rates need to be changed in order to maintain that principle.
"Following this and discussions with partners, we have now agreed a new deal," Mrs Hart added.
The scheme was introduced in 2002 and was extended to armed forces personnel and veterans three years ago.