Wales' poorer households council tax support reviewed by ministers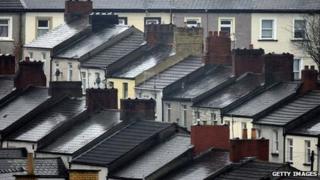 A review will see if Welsh ministers can afford to keep helping the poorest households pay their council tax bills.
Responsibility for council tax benefit was devolved to Wales, but the scheme's budget was cut at the same time.
The Welsh government has met the £22m annual shortfall so far, and will do so again in the 2014-15 financial year.
Experts will advise whether the scheme, enabling some 320,000 households in Wales to pay reduced or no council tax, is affordable in future.
A consultation on the possible options will close on 5 March.
Local Government Minister Lesley Griffiths said no decision had been taken on the matter.
In a statement to AMs she said: "Tackling poverty is a core priority for the Welsh Labour government.
"This means prioritising the needs of the poorest and protecting those most at risk of poverty and exclusion.
"However, the relentless pressures on our budgets from the UK government demand difficult choices about how best to achieve this.
"There are few areas where these choices are thrown into sharper focus than council tax support."
Ms Griffiths said some of the options included:
cutting entitlement for all households, or continuing to protect some
considering the fairest and most equitable way of implementing any reduction
making councils responsible for designing their own local schemes
She said a "full and meaningful consultation" would take place.