Wages row affecting Welsh farmers reaches Supreme Court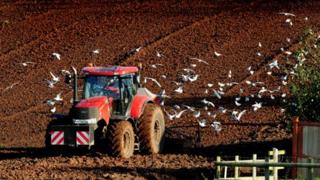 A dispute over wage protection for more than 13,000 Welsh farm workers is being heard in the Supreme Court.
Assembly members passed a law last year to set minimum wages, and the terms and conditions, of agricultural workers after the UK government abolished a board regulating the sector.
UK Attorney General Dominic Grieve blocked the law, saying it was not within the assembly's powers.
The court hearing into the Agricultural Sector Bill is due to last two days.
The Supreme Court's role includes hearing cases of public or constitutional importance.
The row follows a decision by the UK government to abolish the Agricultural Wages Board (AWB), established in 1949 to set the minimum rates of pay and other terms and conditions of employment for agricultural workers in England and Wales.
The UK government argues that removing the board would enable the industry to adopt flexible working practices and help ensure a sustainable and viable future for agriculture.
Opponents of the board's abolition say the move could deepen rural poverty by allowing pay cuts for thousands of rural workers, for whom living costs can be high.
Scotland and Northern Ireland have their own wages board.
The Welsh government opposed the abolition of the 65-year-old board, but was told by Whitehall it was not a devolved matter.
'Important questions'
Last August the attorney general wrote to the assembly raising objections to the passing of its Agricultural Sector Bill.
"I am not convinced that the bill is within the National Assembly's competence and I have therefore decided to refer it to the Supreme Court," he wrote.
"I hope that this reference will give us clarity in respect of important questions about the breadth of the National Assembly's competence."
In response, the Welsh government defended its bill saying it would "encourage new entrants into the agricultural industry and will help the sector to enhance and retain important skills in order to ensure the future prosperity of the sector".
Abolition of the AWB has divided farming unions, with the Farmers' Union of Wales saying the board was "vital" while the National Farmers' Union thought it "outdated and unnecessary".