Welsh ministers must not have welfare reform 'blind spot', warns Crabb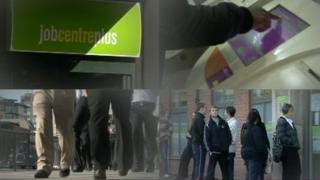 Welsh ministers have been warned they must not have a "blindspot" on welfare reform by a UK government minister.
Wales Office minister Stephen Crabb said the reforms were a rare chance to "break the cycle of dependency".
The changes include re-assessing people on long-term sickness benefits are merging some existing benefits into one regular payment.
The Welsh government said the reforms were "hitting some of the most vulnerable people in Wales".
Ministers in Cardiff Bay argue the changes are unfair and maintain they will hit Wales disproportionately hard.
Speaking in a seminar in Cardiff on Thursday, Mr Crabb described the welfare programme as a "once-in-a-generation opportunity to break the cycle of dependency and return the welfare system to its true value and purpose".
He called on local, Welsh and UK governments to work together with a "shared interest in seeing the economic health of our nation improve", warning that welfare reform "must not be a blind spot for the Welsh government".
Before the seminar, Mr Crabb said: "At the same time as a record number of people are out working today, there remain around 200,000 people here in Wales who have never worked a day in their lives - that's a tragedy for each one of those individuals and it's a tragedy for our nation.
"A small country like Wales needs to maximise every bit of skill, talent and potential that we have."
'Social atrocity'
In a BBC Radio Wales interview Mr Crabb, the MP for Preseli Pembrokeshire, criticised comments on the benefit changes made by the Welsh government minister Huw Lewis.
Mr Crabb said: "Just a year ago we had a minister in the Welsh government attacking our welfare reforms as a 'social atrocity', using really quite strong to extreme language.
"And what we're trying to do and what we are seeing is tackling communities in Wales where there has been now generations of worklessness, taking people who've been long-term unemployed and giving them a fighting chance to get back into work."
In response, a Welsh government spokesman said: "We are not opposed to welfare reform in principle, but the UK government is hitting some of the most vulnerable people in Wales at the very time they are struggling to cover their everyday costs.
"Despite the cuts to our budget, we will continue to do all we can to help the most disadvantaged deal with these changes and create job opportunities."