Jones challenged on devolving tax powers for Wales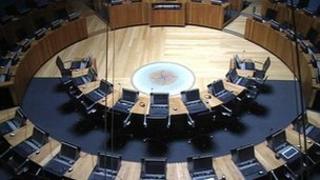 The Conservatives have challenged First Minister Carwyn Jones over Labour's position on devolving tax powers.
AMs were discussing plans to give the Welsh government new powers to borrow money and control some taxes.
Ministers in Cardiff would also get some power to vary income tax, subject to a referendum.
Mr Jones said changes to the way Whitehall sets the Welsh government's budget were needed before income tax varying powers could be devolved.
He wants an agreement to reform the Barnett formula - the Treasury's formula for funding the devolved nations - before a vote takes place.
Opposition parties have said Labour's stance is unclear.
'Nonsense'
The first minister was challenged in a debate on the UK government's Draft Wales Bill.
It follows comments by Shadow Welsh Secretary Owen Smith who said the UK government was laying a "trap" to force the Welsh government to raise more of the money it spends.
During a debate in Westminster last week Mr Smith spoke of his fear of "creating destructive tax competition between the nations and regions of the UK".
He later denied there was a split in the Labour Party and said the idea that its support for devolution had waned was "nonsense".
On Tuesday, Welsh Conservative leader Andrew RT Davies asked Mr Jones: "Considering Owen Smith said 'we will not seek these powers in the future', on record, do you not support the devolution of these powers because Owen Smith is saying that you as a party will not seek the devolution of these powers?"
Mr Jones referred to a finding by the independent Holtham commission, set up by the previous Labour/Plaid Cymru coalition government, that Wales was losing out on £300m a year because of the Barnett formula.
The first minister said the issue of "fair funding" for Wales must be dealt with first.
He said: "If the issue of fair funding isn't addressed, when income tax powers are devolved the answer from any UK government in relation to fair funding reform will be 'raise your own money.'
Lockstep rule
AMs later backed a Plaid Cymru amendment rejecting restrictions which critics say limit the Welsh government's ability to vary income tax rates.
The so-called lockstep rule means that the Welsh government could not make changes to an individual tax band without doing the same to all others.
Mr Jones said "the lockstep is useless, it makes no sense at all".
All opposition leaders in the assembly have also criticised it.
The proposals contained in the Draft Wales Bill stem from the Silk Commission into funding for Wales.
Plaid Cymru leader Leanne Wood said the bill had been "needlessly watered down".
However, Welsh Liberal Democrat leader Kirsty Williams said the Westminster coalition "has a strong record of moving devolution forward".