Failure to investigate hospital death rates a 'tragedy', says Jeremy Hunt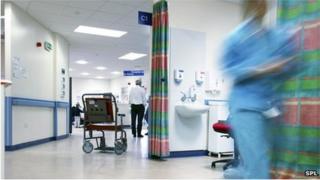 UK Health Secretary Jeremy Hunt says patients are suffering because Welsh ministers are not investigating high death rates in hospitals.
He said it was a "tragedy" that the Welsh NHS was not adopting reforms introduced in England in the wake of the Stafford Hospital scandal.
Welsh ministers said it was an attempt to "deflect attention" from the "woeful Tory stewardship" of England's NHS.
"Mr Hunt should get on with his job," a Welsh government spokesman added.
A year on from the report of the Francis inquiry into Stafford, Mr Hunt said the NHS in England was becoming more transparent and open.
"However, there is still one ongoing tragedy: the refusal of the Welsh NHS to adopt any of these measures," he wrote in the Daily Telegraph.
"Perhaps because Mid Staffs happened under a Labour government, the Labour Party in Wales has refused to investigate hospitals with high death rates, refused to introduce Ofsted-style inspections, and rejected the transparency agenda embraced in England."
'Political scapegoats'
The UK government launched a separate inquiry into English hospital trusts with high death rates, led by NHS England's medical director Prof Sir Bruce Keogh.
Conservatives have called for the Welsh government to do the same.
A spokesman for Welsh Health Minister Mark Drakeford said: "People in Wales receive excellent care from the NHS, backed up time and time again by independent surveys such as the National Survey for Wales.
Last year an inquiry into Stafford Hospital found that years of abuse and neglect at the health trust had led to the unnecessary deaths of some patients.
"Where there is an issue we take action to correct it, as shown by the current independent review into hospitals in the Abertawe Bro Morgannwg University Health Board.
"We don't hide behind lengthy and costly inquiries which would divert resources and attention away from direct patient care. And we don't cast around for political scapegoats in the way Jeremy Hunt does.
"This attack is a rather desperate attempt to deflect attention away from the woeful Tory stewardship of the NHS in England. Mr Hunt should get on with his job."
'Complacent'
Speaking in the House of Commons, Mr Hunt said: "Something else that is complacent is this idea Labour has that, almost a year after the Francis report, the lessons of Mid Staffs stop at the border of England and Wales-that Wales has nothing to learn and does not need to do a Keogh report into excess mortality rates, which the Welsh Labour government have consistently refused to do.
"People in Welsh hospitals are suffering because the Welsh NHS has refused to bite the bullet on excess mortality rates," he said.