Leanne Wood would 'probably' stand as dual candidate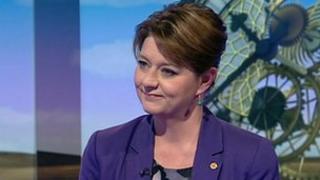 Plaid Cymru's leader has said she will "probably" stand as a regional and constituency candidate in the next assembly election if able to do so.
Leanne Wood told BBC's Sunday Politics Wales programme she planned to contest Labour-held Rhondda in 2016.
Under the current rules, she cannot also stand for re-election to her current seat as a regional AM for South Wales Central.
But the UK government is planning to lift a ban on "dual candidacy".
This means AMs could run as constituency and regional candidates.
Of the 60 AMs, 40 represent constituency seats and 20 are elected from five regional lists.
The ban was introduced in 2007 to stop candidates rejected by voters in constituency polls from being elected to the assembly by also standing for list seats.
Asked if she would stand in a region as well as the Rhondda, she said: "Yes, I probably will if that position is changed.
"But I think that politicians talking about electoral arrangements, and focusing on that, is deeply unattractive to the electorate."
She said that when she first announced her plans for the election there was a ban on standing on the regional list and in a constituency.
"There are moves now to remove that ban, but we still don't know what the situation will be by 2016," she said.
"Either way I'll be standing in the Rhondda and I'll be standing to win that constituency seat."
Introduced by the former UK Labour government, the ban was strongly opposed by other political parties at the time.
Income tax
It would be overturned by the draft Wales Bill, currently going through parliament.
The Bill also paves the way towards a referendum on devolving partial control over income tax.
Echoing comments by First Minister Carwyn Jones, Ms Wood said restrictions on the Welsh government's ability to vary income tax made the powers on offer "pretty useless".
She declined to say whether her party would insist on a referendum if it was involved in coalition talks after the next assembly elections.
"What I've said about a referendum is that it has to be something that we can actually put to the people and have a chance of winning," she said.
And she said her party was yet to discuss the findings of the Williams Commission which last week called for a series of local authority mergers to cut the number of Welsh councils.